New treatment options for varicose veins
Getting rid of varicose veins isn't about vanity. It's about your health and quality of life. Varicose veins are a symptom of early stage venous disease and, left untreated, can lead to increased symptoms and worsening appearance.
At the Vein Healthcare Center, we believe that people with vein issues should have the knowledge to make good, informed decisions about their leg health. To read about the experiences of our past patients, click on the "Perspectives" image below.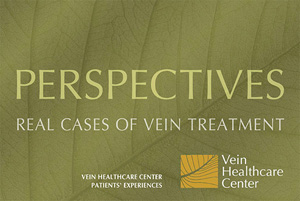 Education is an important first step toward better vein health and quality of life. The next step is to receive a complete evaluation. To schedule a new patient visit, call us at (207) 221-7799 or request an appointment online.